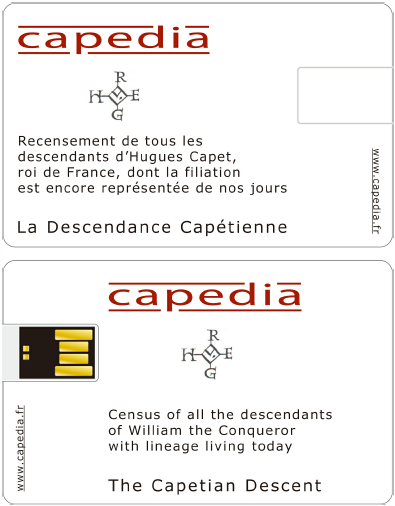 The Capetian Descent 2019 (23rd issue)

Find the full Capedia database on a USB stick, in bank card format, as you can see on the internet: tables, coats of arms, notices and images!

Check out Capedia on your own computer not connected to the internet!

Easily slip your USB stick into your wallet or into your handbag pouch and stun your friends and family by displaying Capedia on their computer!

The USB stick contains the full Capedia database : 830,000 individuals, all linked to the common ancestor Hugues Capet, forming a gigantic table without duplicates or extinct branches!

ou will navigate with a simple click of mouse and discover with surprise of spectacular cousinages : Valéry Giscard d'Estaing, François Mitterrand, François Hollande, Bernadette Chirac, François Fillon, Michel Sapin, Ségolène Royal, Nathalie Kosciusko-Morizet, Bruno Le Maire, Johnny Hallyday, Charlotte Gainsbourg, Céline Dion, Elvis Presley, George Bush, Barack Obama, Donald Trump...

The armorial, included in the USB stick, includes 5,600 faces illustrating the coats of arms of more than 260,000 people of the Capetian base.

You will print "à la carte" superb illustrated ancestry charts, impressive descent charts and relationship charts.

Important: the USB stick only works under Windows!

Purchase of the USB stick includes the annual Capedia service subscription.